Written by Paul Fromm
Thursday, 17 January 2013 22:11
*My Dog's Secret... *
**
My dog sleeps about 20 hours a day. He has his food prepared for him. He
can eat whenever he wants.
His meals are provided at no cost to him.
He visits the Doctor once a year for his check-up, and again during the
year if any medical needs arise.
For this he pays nothing, and nothing is required of him.
He lives in a nice neighbourhood in a house that is much larger than he
needs, but he is not required to do any upkeep.
He makes no contribution to the running or maintenance of the house.
If he makes a mess, someone else cleans it up.
He has his choice of luxurious places to sleep. He receives these
accommodations absolutely free.
He is living like a King, and has absolutely no expenses whatsoever.
All of his costs are picked up by others who go out, work hard, and earn a
living every day.
I was just thinking about all this, and suddenly it hit me like a brick in
the head...
**
**
**
*[image: Description: cid:[email protected]]*
**
**
*I think my dog might be an REFUGEE*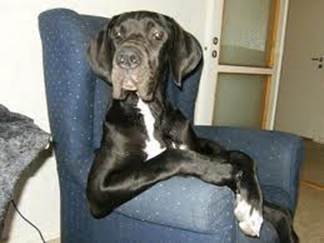 XL - The Trouble That Dares Not Speak Its Name: Where is the Rest of the Story?
Written by Paul Fromm
Monday, 14 January 2013 21:32
*XL - The Trouble That Dares Not Speak Its Name: Where is the Rest of the
Story?*

We found this odd for a follow up story appearing months after the
shutdown of XL n September 27 in what the *Edmonton Journal* (January 8,
2013) notes was" the largest recall of beef products in Canadian history".
While there were persistent problems at XL, no one is suggesting the
company (the now defunct company) was entirely at fault. Or CFIA. For
that matter, why did the former company so signally fail to step up and
defend itself during the depths of the crisis?

The article suggests that there was a curious ongoing reluctance to correct
failures on the part of employees. Gosh, what would account for that? The
article is so coy, speaking of deeper problems and something else being at
play, but fails to identify what that x-factor might be. Is it remotely
possible that, right down the line, everyone has been too frightened of
being accused of racism or xenophobia to identify the problem as
English challenged foreigners bringing with them the lofty hygiene
standards of their failed societies, recruited overseas to work at
critical food production facilities here, because they're "cheaper"?

Canada's major meat packers in Ontario, Manitoba, and, of course, in the
case in question in Brooks, Alberta, have displaced much of the traditional
Canadian workforce with Third Worlders, many of them from the Sudan, an
area not hitherto known for advanced skills in either hygiene or abattoir
techniques.

An unnamed villain in this health-threatening story is the complicity of
the Canadian government in permitting the packers to do things on the
cheap. Third Worlders should never have been allowed to fill these jobs.
The companies should have been compelled to pony up a few more pennies and
make this work attractive to Canadians who traditionally did these jobs.

It leaves meat looking ever more unappealing - from the way the poor
creatures are 'managed' during life to the hygiene standards in play at
their deaths. It's all sick making.




*Edmonton Journal* January 8 2013

*EDMONTON -* The pattern of safety violations at XL Foods' slaughterhouse
in southern Alberta was indicative of a deeper problem that likely
contributed to the largest recall of beef products in Canadian history, an
expert charges.

University of Manitoba researcher Rick Holley says the number and type of
infractions identified by the Canadian Food Inspection Agency in the months
leading up to a September outbreak of E. coli were clues something was
gravely wrong at the plant that was shut down only after cases of food
poisoning began to spread across the country.

"It is clear employees were missing stuff on a routine basis," says Holley,
an E. coli specialist and former chairman of the Canada Committee on
Food. "When
employees are starting up production with equipment that is dirty, it
suggests something else was at play.

"Problems seemed to be occurring fairly regularly, and when that happens,
it can spell disaster. And in this case, it certainly did."

The CFIA temporarily closed the packing house in Brooks on Sept. 27,
causing XL Foods to sustain huge financial losses and to eventually turn
over the facility and other assets to the multinational food company JBS
S.A.

Eighteen cases of E. coli-related illness were linked to beef processed at
the plant, and more than 2,000 products were pulled from store shelves
across Canada and the United States. The bacteria was first detected in
ground meat at a border station in Sweetgrass, Mont., on Sept. 4, and then kept
recurring at XL Foods' slaughterhouse, leading to its licence being
suspended.

"In a facility like that, you expect something to happen occasionally, but
my sense is that employees weren't doing enough to make sure it happened
only rarely," Holley says. "You can surmise that the employees were allowed
by supervisors to go over the line, and then problems weren't caught as
often as possible by CFIA."

Newly released inspection reports show that the company was cited for
numerous violations in the six months before meat tainted with E. coli was
found at the border. The problems at the plant ranged from maintenance
issues like doors that didn't close properly and peeling and flaking paint,
to equipment like hooks, knives and saws not being sanitized and carcasses
of animals being partially dragged along the floor.

At times, inspectors halted work on the production line due to
contamination threat and ordered workers to be retrained. Six corrective
action requests were issued between Feb. 14 and Aug. 20, with the company
resolving some of the problems only slowly.

"After a while, it almost seemed like inspectors were issuing notices out
of desperation," Holley says. "That shouldn't happen."

Bob Kingston, president of Canada's Agricultural Union, on Tuesday
called information
contained within the correction requests troubling. In some cases,
inspectors found that the company had failed to take any action or submit a
corrective plan — and then extended the deadline for corrections.

"When extensions are granted automatically, it's problematic," Kingston
says. "It appears that there was a history there of trying to appease
industry, and in the end it didn't help industry a bit."

Other infractions inspectors noted included containers overflowing with
unsanitary water and condensation dripping from pipes onto carcasses, rust
and fat built up on saw blades and knuckle removers, fat and blood built up
on stairs, fat and debris on a computer stand and mismarked packaging.

The plant, which is now being run by JBS' U.S. subsidiary, was allowed to
reopen at the end of October.

Kai Murros -- Europeans Fight Back Against Your Own Planned Destruction
Written by Paul Fromm
Monday, 14 January 2013 02:50
--------------------------------------------------------------------------------
This email newsletter was sent to you in graphical HTML format.
If you're seeing this version, your email program prefers plain text emails.
You can read the original version online:
http://ymlp256.net/zlsr1J
--------------------------------------------------------------------------------


Kai Murros -- Europeans Fight Back Against Your Own Planned
Destruction

http://www.youtube.com/watch?feature=player_detailpage&v=x2hUiKLZkdI (
http://http//www.youtube.com/watch?feature=player_detailpage&v=x2hUiKLZkdI
)

http://www.youtube.com/watch?v=l55uTXcfbmY&feature=player_detailpage (
http://www.youtube.com/watch?v=l55uTXcfbmY&feature=player_detailpage )

YouTube - Videos from this email

_____________________________
Unsubscribe / Change Profile: http://ymlp256.net/ugmjhqsqgsgbbqgwebgguewwmw
Powered by YourMailingListProvider

Page 111 of 454